October 25, 2021
Visit to Nagai Sake Brewery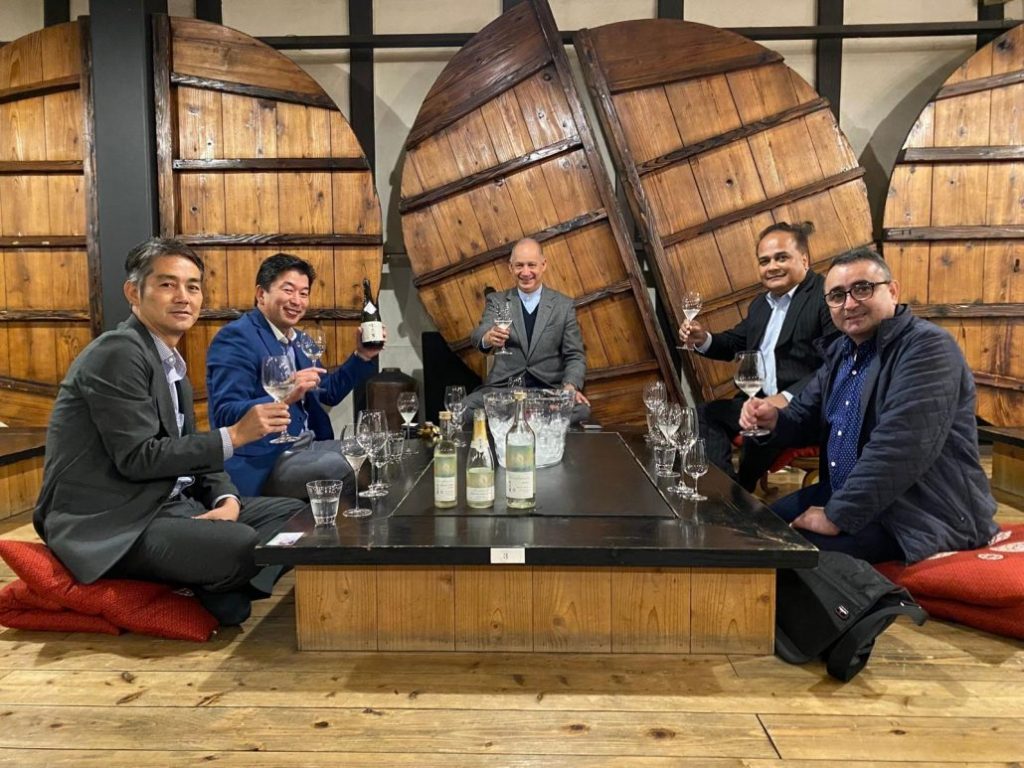 On October 19, JAPOLAC, Dr. Ritter Diaz, Representative Director, together with Mr. Hirokazu Yamaguchi, Managing Director, Mr. Ricardo Gonzalez, Commercial Director, and Mr. Ajoy Shinha Roy, Senior Director of the Association, visited Nagai Sake Brewery Co., Ltd. in Gunma Prefecture to learn about Mizubasho Pure, one of the top sparkling sakes of Japan.
Dr. Diaz was received by Mr. Noriyoshi Nagai, President and CEO of Nagai Sake Brewery Co., who guided Dr. Diaz and other directors to a small creek where the water is obtained to make sake. At the creek, Directors of JAPOLAC drank water directly from the stream, feeling the great taste of natural water. After that, Mr. Nagai  made a presentation and tasting of different sakes produced at the brewery.
During the presentation, Dr. Diaz was very impressed by the high quality and exquisite flavor of Nagai sake, which has a great potential to capture the taste of Latin American people.
Dr. Diaz expressed his appreciation for the hospitality of Mr. Nagai and conveyed his interest of promoting sake in Latin America and the Caribbean countries through the network of the Association. Dr. Diaz mentioned that Japanese people greatly appreciates beverages from Latin America such as rum and coffee, therefore, it would be a good gesture of reciprocity to introduce fine sparkling sake to our region
Mr. Nagai also serves as the representative director of the Sparkling Sake (Awa Sake) Association and is engaged in activities to disseminate sake in the world.
One of the objectives of JAPOLAC is the promotion of small and medium companies from Japan and Latin America and the Caribbean to introduce their products in the market of the other.