September 21, 2021
Virtual Meeting between the Embassy of Colombia and Chiba University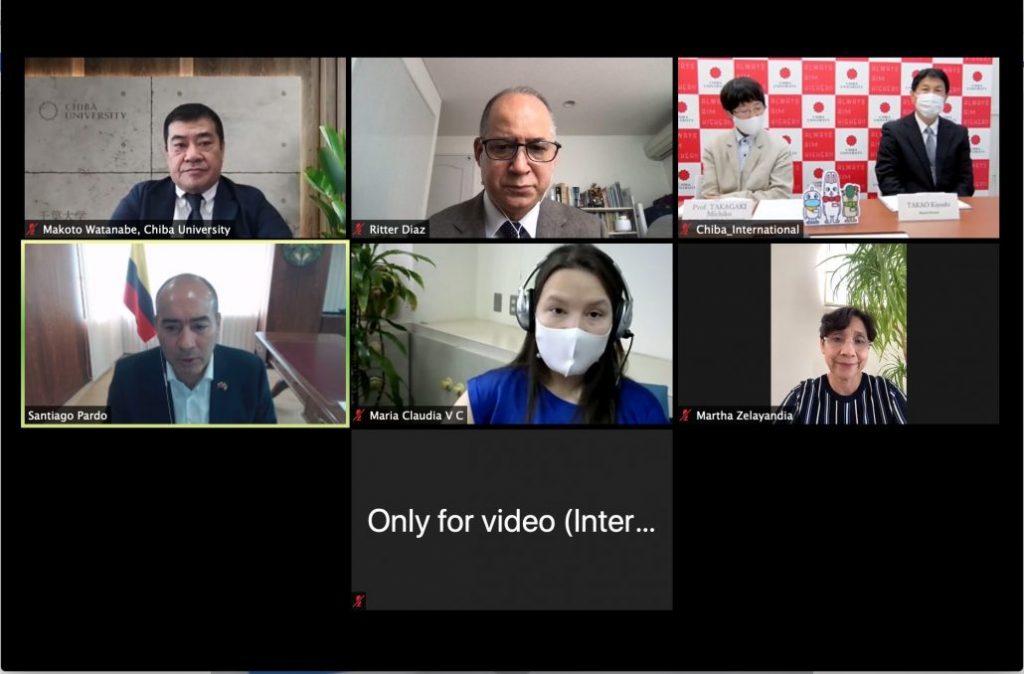 The Japanese Association for the Promotion of Latin America and the Caribbean (JAPOLAC) organized a virtual meeting to introduce the Embassy of Colombia in Japan to Chiba University, with the purpose of promoting academic exchanges between Chiba University and Colombian universities.
Representing the Embassy of Colombia were H.E. Santiago Pardo, Ambassador Extraordinary and Plenipotentiary of the Republic of Colombia and the Second Secretary María Claudia Vélez, while Chiba University counted on the participation of Dr. Makoto Watanabe, Executive Vice President of Education, Student and International Affairs, Dr. Michiko Takagaki, Director of the Center for Environment, Health and Field Sciences, Mr. Kiyoshi Takao, Deputy Director of the Department of International Affairs and Ms. Satoko Jumi, Head of the Department of International Affairs.
The University of Chiba carried out a presentation of the university to Ambassador Pardo, who expressed his gratitude for this first meeting, aimed at expanding academic exchanges between Japanese and Colombian universities.
JAPOLAC was represented by Dr. Ritter Díaz, Representative Director of the Association and Ms. Martha Zelayandía, former Ambassador of El Salvador in Japan and Honorary Member of the Association, in charge of international exchange programs.
One of the objectives of JAPOLAC is the promotion of academic exchanges between Japanese and Latin American and Caribbean universities, as well as the creation of an academic and research network between Japan and LAC.