August 18, 2021
Virtual Meeting between Chiba University and the University of Costa Rica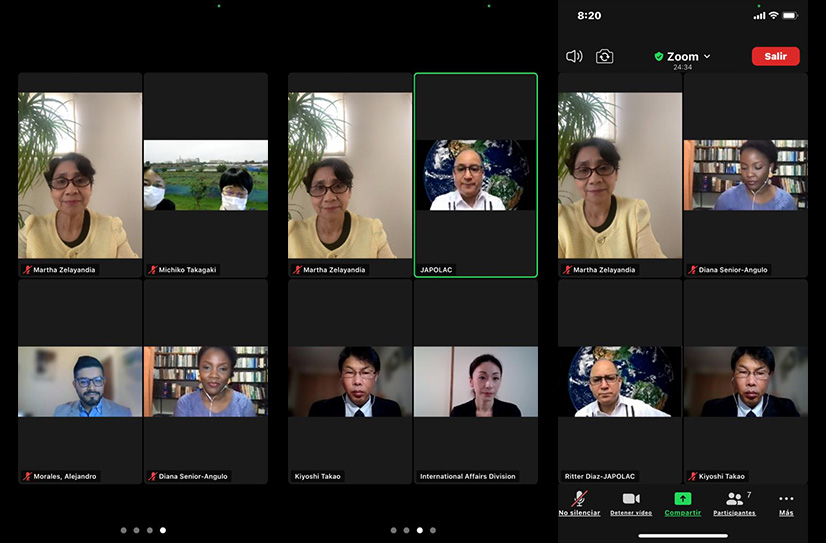 JAPOLAC organized a virtual meeting between Chiba University and the University of Costa Rica with the purpose of promoting academic exchanges between both universities with focus on renewable energy and environment.
Representatives from both universities made a presentation about their academic programs and agreed to organize a short online program for CU students next year.
Participants from Chiba University included Mr. Kiyoshi Takao, Deputy Director for International Affairs, Ms. Satoko Jumi, Chief, International Affairs Division, Dr. Michiko Takagaki, Faculty and Dr. Lu Na, Faculty. The University of Costa Rica was represented by Dr. Diana SENIOR ANGULO (Ms.), Director of the International Affairs Office and External Cooperation and Mr. Alejandro MORALES GUTIÉRREZ, in charge of cooperation with Asia.
JAPOLAC was represented by Ambassador Martha Zelayandia, Honorary Member of JAPOLAC, in charge of international academic programs, and Dr. Ritter Diaz, Representative Director of the Association who served as moderator of the meeting.
One of the activities of JAPOLAC is the promotion of international academic exchanges between universities of Japan and Latin America and the Caribbean to develop an academic and research network between Japan and LAC.