May 11, 2023
Rhythms of Caribbean: The Magic of Dominican Republic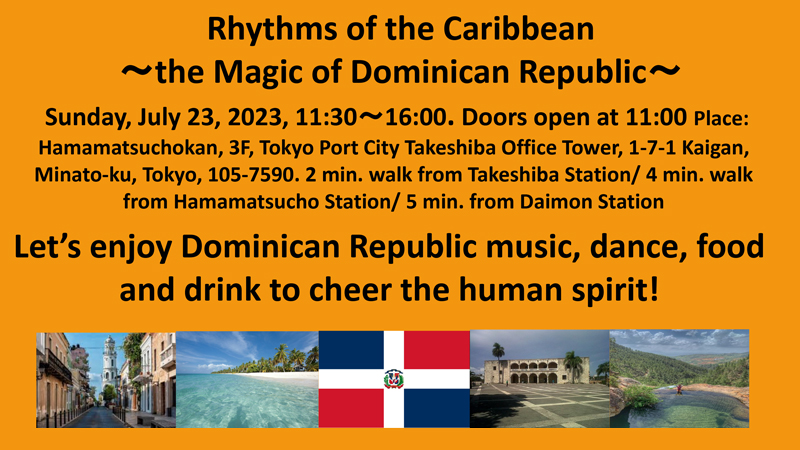 Let's enjoy Dominican Republic music, dance, food and drink to cheer the human spirit!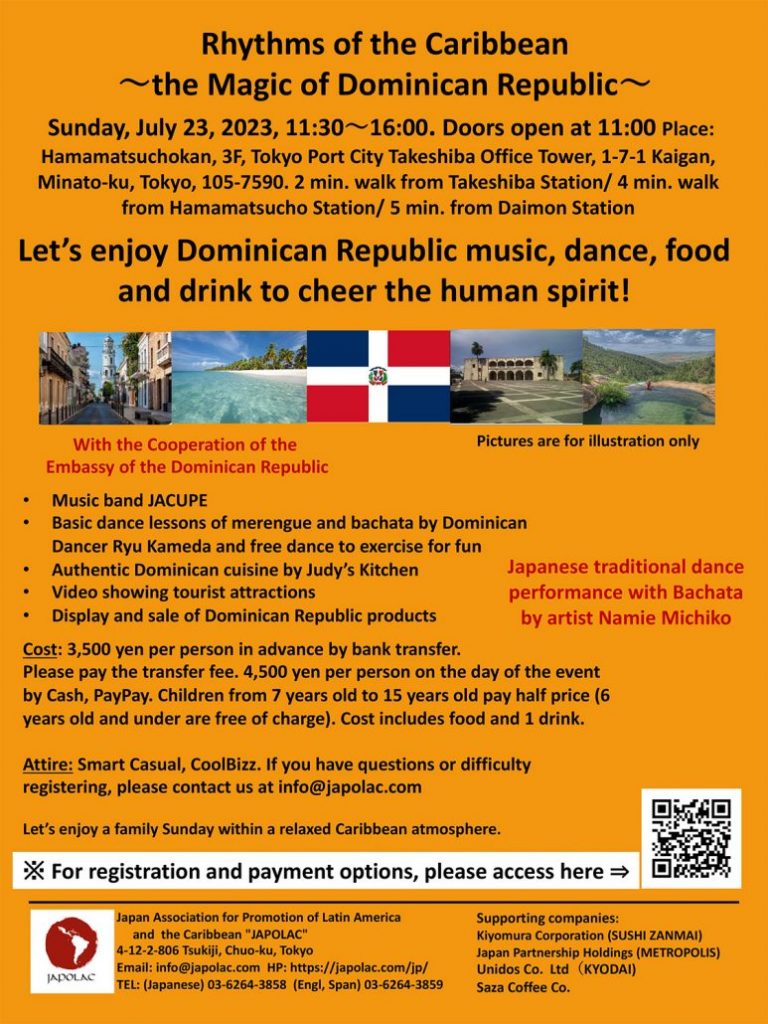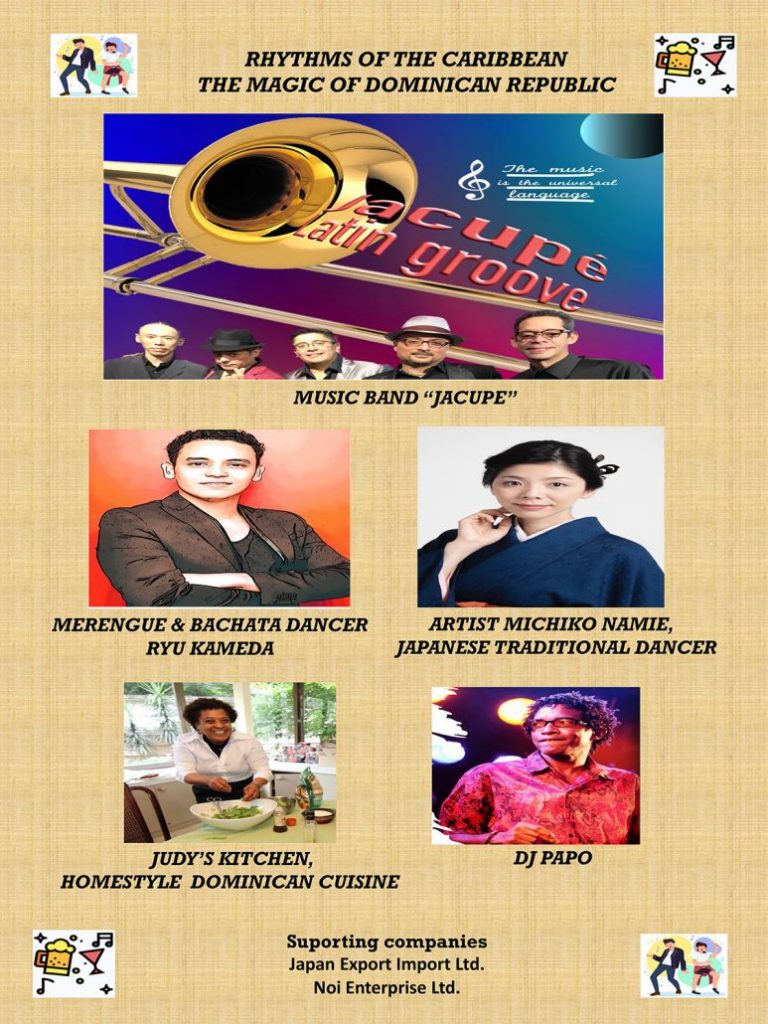 Event Name: "Rhythms of the Caribbean: The Magic of Dominican Republic"
Date and Time: Sunday, July 23, 11:30-16:00. Doors Open at 11:00 a.m.
Location: Hamamatsuchokan, 3F, Tokyo Port City Takeshiba Office Tower, 1-7-1 Kaigan, Minato-Ku, Tokyo, 105-7590.
2 min. Walk from Takeshiba Station/ 4 min. walk from Hamamatsucho Station/ 5 min. from Daimon Station.
https://tokyo-portcity-takeshiba.jp/access/
Event Details:
Music Band JACUPE.
Basic dance lessons of merengue and bachata by Dominican Dancer Ryu Kameda and free dance to exercise for fun.
Special dance performance of Japanese traditional dance with Bachata by artist Michiko Namie.
Authentic Dominican cuisine by Judy's Kitchen.
Video showing tourist attractions.
Display and sale of Dominican Republic products.
Admission Fee: Advance payment of 3,500 yen per person by bank transfer. Please pay the transfer fee. Payment at the Reception on the day of event: 4,500 yen per person in Cash or PayPay. Children from 7 years old to 15 years old pay half price (6 years old and under are free of charge). Cost Includes food and 1 drink.
Dress Code: Smart casual, CoolBiz, Guayabera.
Organizer: Japan Association for Promotion of Latin America and the Caribbean (JAPOLAC),
4-12-2-806, Tsukiji, Chuo-ku, Tokyo 104-0045
TEL :(Japanese) 03-6264-3858 (English, Spanish) 03-6264-3859
Email: info@japolac.com; HP: https://japolac.com/
With the Cooperation of the Embassy of Dominican Republic
Sponsors:
Kiyomura Co., Ltd. (Sushi Zanmai)
Japan Partnership Holdings Inc. (METROPOLIS)
Japan Export Import Ltd.
Noi Enterprise Ltd.
Unidos, Co. Ltd (KYODAI)
Saza Coffee Co., Ltd. Sukoruni Wine Co., Ltd.
Charity Support: A portion of the funds raised at this event will be donated to a Dominican Republic welfare organization focused on the education of economically vulnerable people.
Registration: Prior registration is required. Please enter your name, number of people and email address in the following link and choose the payment method.
https://forms.gle/kUU2w634msrpaH3j8
Cancellation: The event will be cancelled if there is a major disaster or force majeure. In case of cancellation, JAPOLAC will reimburse half of the admission fee in order to cover anticipated expenses in preparation for the event as well as bank fees.
Questions or Queries: Please write to us at: info@japolac.com
We hope you can join us, enjoying food, drink, music and dance, and especially the friendly and relaxed Caribbean atmosphere in order to cheer the human spirit during these complex times.