October 5, 2021
Presentation at the Center for the Promotion of Trade and Investment of Asia-Pacific and Latin America (AP-LAC Centre) Headquartered in Costa Rica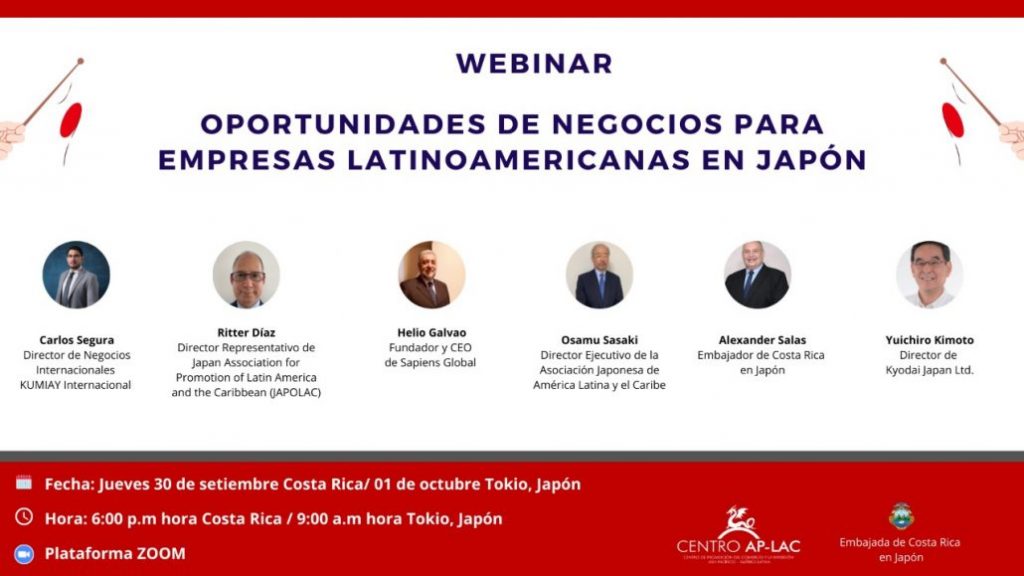 On October 1, 2021, the Representative Director of JAPOLAC, Dr. Ritter Díaz, made a presentation on the objectives and activities of the Association in the context of the Webinar "Business opportunities for Latin American companies in Japan", organized by the Embassy of Costa Rica to Japan with collaboration of the Center for the Promotion of Trade and Investment of Asia-Pacific and Latin America (AP-LAC Center), based in Costa Rica.
Dr. Díaz indicated that JAPOLAC seeks to become a bi-regional communication platform between Japan and Latin America and the Caribbean in six areas that are key to human development, such as business facilitation, education, health, agriculture, environment and artificial intelligence.
Dr. Díaz also expressed that JAPOLAC's priority is the support of small and medium-sized enterprises in Japan and LAC, since they represent the backbone of the economies, but require greater support for their growth and development.
The CEO of the AP-LAC Center, Mr. Andres Gamboa, expressed that it is time for Latin America to payattention to the Asian region, in view of the high economic and technological growth experienced by Asian countries, moving beyond the Euro-American vision that has prevailed so far in the conduct of Latin American affairs.