September 13, 2022
Opening Ceremony of the first Short Online Program (SOP) Delivered by the University of Technology, Jamaica to Chiba University Students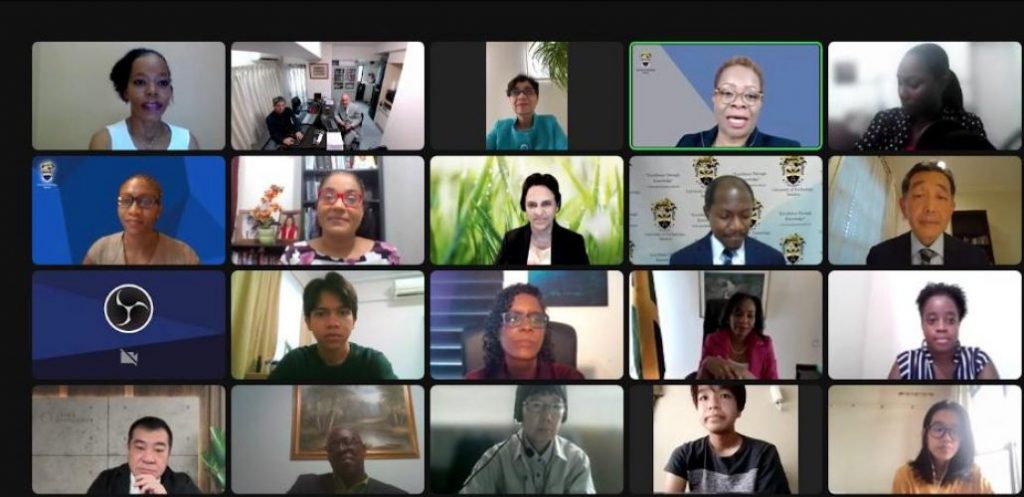 On September 5, took place the first short online program delivered by the University of Technology, Jamaica to Chiba University students under the Program of University Internationalization by the Japan Association for Promotion of Latin America and the Caribbean (JAPOLAC).
The three-week synchronous short online program includes an introduction to Jamaica's history, geography and culture; a course on Jamaica's energy sector; a course on Jamaica's ecology and climate change; and a component for cultural exchange and interaction between Japanese and Jamaican university students.
The opening ceremony was honored by the presence of H.E. Masaya Fujiwara, Ambassador of Japan to Jamaica, H.E. Shorna-Kay Richards, Ambassador of Jamaica to Japan, Professor Makoto Watanabe, Vice President of Chiba University, and Professor Colin Gyles, President (Acting) of the University of Technology, Jamaica.
During the welcoming remarks, the Director Representative of JAPOLAC, Dr. Ritter Diaz, pointed out that this program will serve as the first step for a closer academic cooperation between Chiba University and the University of Technology, Jamaica.
JAPOLAC's short online programs seek to introduce practical knowledge of Latin American and Caribbean countries (LAC) to Japanese university students, encouraging them to visit and study in the LAC region.