April 12, 2022
Online Meeting between Chiba University and the University of Technology, Jamaica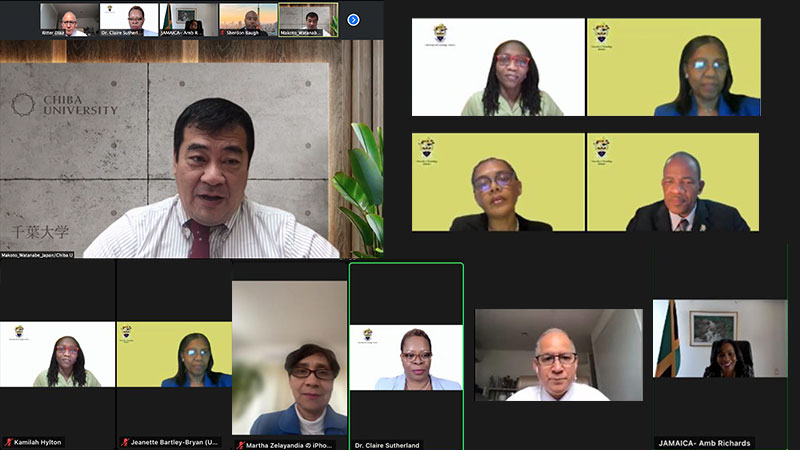 The Japanese Association for the Promotion of Latin America and the Caribbean (JAPOLAC) organized an online meeting to exchange views on the online academic offer from the University of Technology, Jamaica, (Utech, Ja.), which was propose to Chiba University. The meeting also served to explore a potential academic exchange agreement between both universities in the future.
Participants from the University of Technology, Jamaica included Dr. Claire Sutherland, Senior Director, International and Institutional Linkages, Office of the President, Dr. Haldane Johnson, Deputy President (Acting), Miss Marion Brown, Vice President and University Registrar, Dr. Kamilah Hylton, Dean, Faculty of Science and Sport and Dr. Jeanette Bartley-Bryan, Associate Vice President, Office of Distance Learning (ODL) & UTech Academy.
Chiba University counted on the participation of Dr. Makoto Watanabe, Vice President for Education, Student and International Affairs, as well as personnel from the International Affairs Office.
Utech, Ja. carried out a general presentation of the university and academic programs, with a view to exploring the academic and research areas of potential interest for Chiba University.
Dr. Watanabe informed that the online offering from Utech, Ja. is under internal consultations and expressed a positive view on the possibility of establishing an academic agreement in the near future.
In addition, H.E. Shorna-Key Richards, Jamaica's Ambassador to Japan, and her diplomatic team, participated in the meeting, playing an essential coordinating role to make it possible. Ambassador Richards is actively working in the promotion of academic cooperation between Japan and Jamaica.
JAPOLAC counted on the participation of Dr. Ritter Díaz, Representative Director of the Association and Ms. Martha Zelayandía, Honorary Member of JAPOLAC.
One of the objectives of JAPOLAC is the promotion of academic exchanges between Japanese and Latin American and Caribbean universities, as well as the creation of an academic and research network between Japan and LAC.