August 3, 2023
JAPOLAC Takes Part in Sensitization Session for FOODEX 2024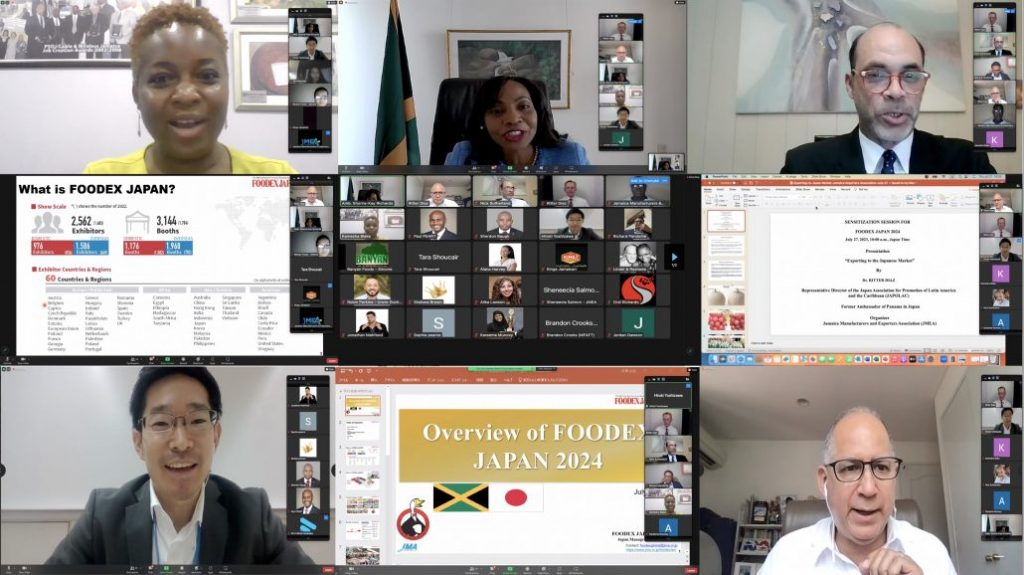 On July 27, Dr. Ritter Diaz, the Representative Director of JAPOLAC, delivered a lecture at the Sensitization Session for FOODEX 2024. The session was organized by the Jamaica Manufacturers and Exporter Association (JMEA) in collaboration with the Embassy of Jamaica in Japan.
The primary objective of this informative session was to equip Jamaican exporters and relevant
government agencies with essential insights into the Japan 49th International Food and Beverage Exhibition (FOODEX 2024), the Japanese market, and the potential benefits it offers.
During his presentation, Dr. Diaz shed light on key aspects of the Japanese consumer behavior, the Japanese market dynamics, and the intricacies of the import system. Furthermore, he highlighted the importance of government's support for Jamaican export companies and explained JAPOLAC's role in facilitating business collaborations between Japanese and Latin America and Caribbean companies.
A notable addition to the session was the participation of a representative from the Japan Management Association, the organizer of FOODEX 2024, who provided an overview of the upcoming exhibition.
This event garnered the enthusiastic participation from over 30 export companies from
Jamaica.
The Ambassador of Jamaica to Japan, H.E. Shorna-Kay Richards, and representatives from Jamaica Promotions Corporation (JAMPRO) were also in attendance, making it a truly engaging and interactive gathering.