October 18, 2023
JAPOLAC Lecture on Japan Foreign Policy Towards Latin America and the Caribbean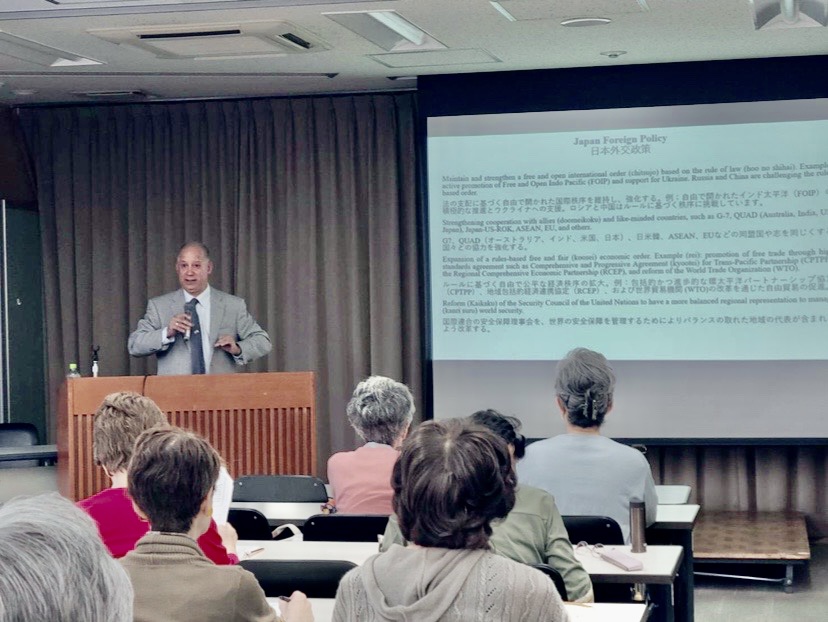 On October 5, Dr. Ritter Diaz delivered a lecture on Japan's Foreign Policy in Latin America and the Caribbean (LAC) to an audience of over 70 members of the Silver Daigaku Kai, an educational organization comprising senior Japanese citizens in the Meguro district of Tokyo.
Dr. Diaz provided an in-depth overview of the current situation in Latin American and Caribbean countries. He explained the guiding principles of Japan's foreign policy in the region, known as "JUNTOS" (TOGETHER), which is aimed at working together to advance economic prosperity, joining efforts in international leadership to address global challenges, and fostering people-to-people exchanges.
During the lecture, Dr. Diaz cited specific examples of Japan's international cooperation, including initiatives related to biodiversity management and conservation in countries belonging to the Central American Integration System (SICA in Spanish), as well as the financing and construction of a monorail using Japanese technology in Panama.
In the economic realm, Dr. Diaz highlighted various economic partnership agreements, tax treaties, and investment agreements that have been established between Japan and several countries in the region.
The presentation concluded with an examination of the various challenges faced by LAC countries. These challenges encompass issues such as inequality and poverty, the ongoing efforts to combat corruption and drug trafficking, and the immigration crisis, which has been exacerbated by the severe economic impact of the COVID-19 pandemic and the conflict in Ukraine.