August 22, 2023
JAPOLAC Joins the 40th Anniversary Celebration of Peace Boat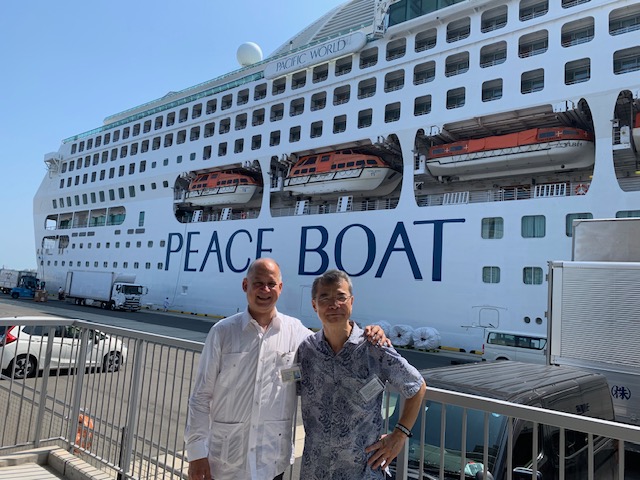 On August 18, JAPOLAC proudly participated in the commemoration of Peace Boat's 40th Anniversary. This event marked a significant milestone for Peace Boat, as it resumed operations in April of this year following a pause caused by the pandemic.
Dr. Ritter Diaz, the Representative Director of JAPOLAC, extended his heartfelt congratulations to Mr. Tatsuya Yoshioka, the visionary Founder and Director of the ship, and his dedicated team, highlighting their unwavering commitment to fostering peace and facilitating cultural exchange across the globe.
Founded in 1983, the Peace Boat is an international NGO based in Japan, dedicated to advancing peace, human rights, and sustainable development in alignment with the UN Sustainable Development Goals (SDGs).
With four decades of impactful experience, Peace Boat has organized over 70 voyages around the world, making port calls in more than 200 locations across 80 countries.
Peace Boat's mission revolves around raising awareness about critical global issues and nurturing cross-cultural understanding. In addition to its voyage itinerary that spans different regions and nations, the ship's passengers engage in workshops, seminars, joyful cultural events, and hands-on activities, including peace advocacy, disarmament, human rights, environmental sustainability, and disaster relief, among others.
The commemorative event concluded with a captivating cultural performance that highlighted the vibrancy of Latin dance and music, organized by JAPOLAC. This performance truly encapsulated the spirit of unity and celebration that defines Peace Boat's remarkable 40-year journey.
Over 500 people participated in the event, including ambassadors and diplomats from 45 embassies accredited to Japan.