August 15, 2023
JAPOLAC Hosted the Cultural Event "Rhythms of the Caribbean: The Magic of the Dominican Republic"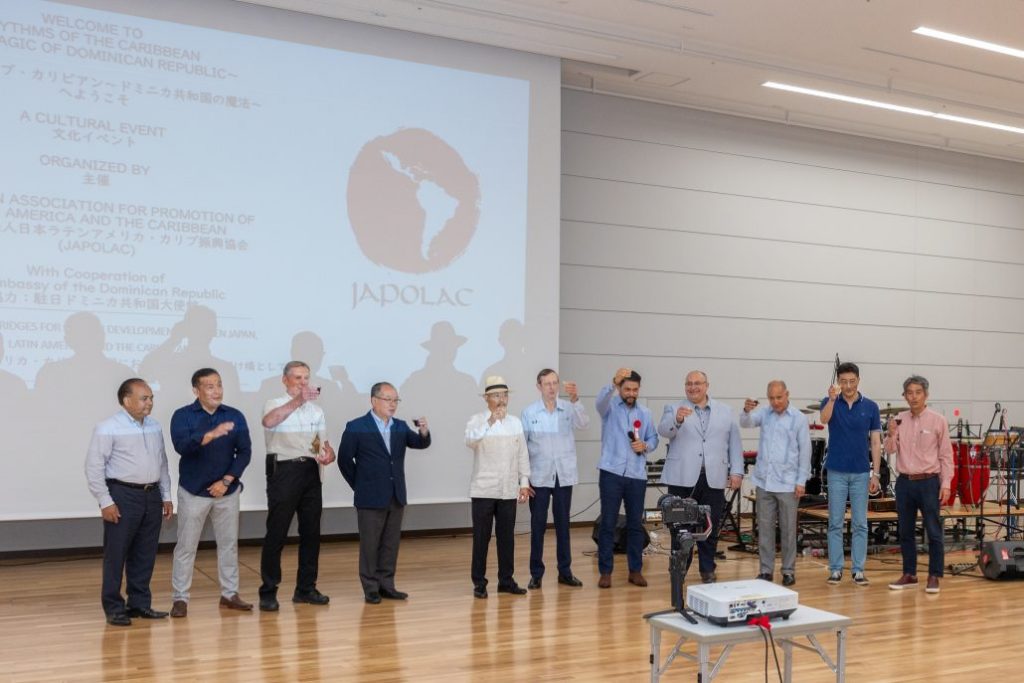 On July 23, JAPOLAC successfully held the cultural event "Rhythms of the Caribbean: The Magic of the Dominican Republic" in the heart of Tokyo.
H.E. Robert Takata, Ambassador of the Dominican Republic to Japan, delivered a warm welcome speech, expressing gratitude for the invaluable role played by JAPOLAC in strengthening the bonds of friendship between Japanese and Latin American and Caribbean
communities.
This event marked the third installment in the "Rhythms of the Caribbean" series, captivating the audience with an array of vibrant dance performances, cheerful music, authentic cuisine, tourist attractions and products from the Dominican Republic.
Through these events, JAPOLAC aims to foster cultural awareness among the Japanese citizens, showcasing the distinctive aspects of various Latin American and Caribbean countries.
Furthermore, JAPOLAC endeavors to create a warm and friendly space for Japanese people and their families to learn about and engage with the people of Latin America and the Caribbean.
Over 130 participants attended the event, including the ambassadors from the Dominican Republic, Cuba, Venezuela, Costa Rica, and the Charge d'Affairs from the embassies of Colombia and Bolivia.
The success of the event was made possible by the generous support of several companies, including Kiyomura Corporation (Sushi Zanmai), Japan Partnership Holdings, Kyodai, Meiji Holdings, Ricoh (31 Country Club), Japan Export Import, Ltd., Noi Enterprise, Hatada Corporation, and Japan Aviation High School.
JAPOLAC remains dedicated to promoting cultural exchange and fostering stronger ties between Japan and Latin American and Caribbean nations.