October 22, 2021
Dinner-Meeting with the President of the Association Quality-of-Life Foundation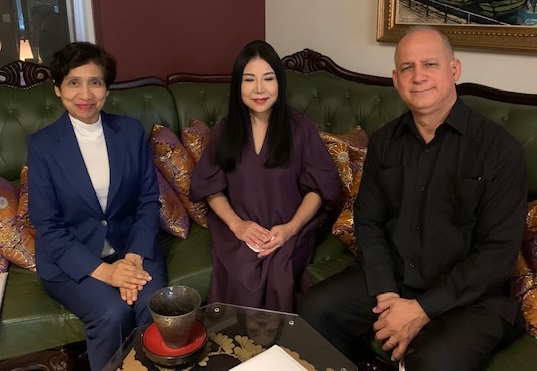 Dr. Ritter Diaz, Representative Director of JAPOLAC, together with Mrs. Martha Zelayandia, Former Ambassador of El Salvador and Honorary of the Association, participated in a dinner-meeting with Mrs. Hiroko Suzuki, President of the Association Quality of Life (QOL) Foundation to explain about the objectives and activities of JAPOLAC
Mrs. Suzuki also explained about the activities and objectives of QOL, sharing her 15-years' experience at the helm of QOL in the field of medical doctors exchange between Japan and the world.
Dr. Diaz and Mrs. Suzuki agreed to cooperate to extend medical doctor exchanges to the countries of Latin America and the Caribbean (LAC) in the near future, and also to explore the possibility of establishing exchanges between Latin American universities and the Niigata University of Health and Welfare.
JAPOLAC aims at the development of practical exchanges between Japan and LAC in the area of health to improve the national health systems as well as the quality of life of LAC population.