October 4, 2021
Virtual meeting between JICA and JAPOLAC to introduce Japanese Language E-Learning Program for Spanish Speaking residents in Japan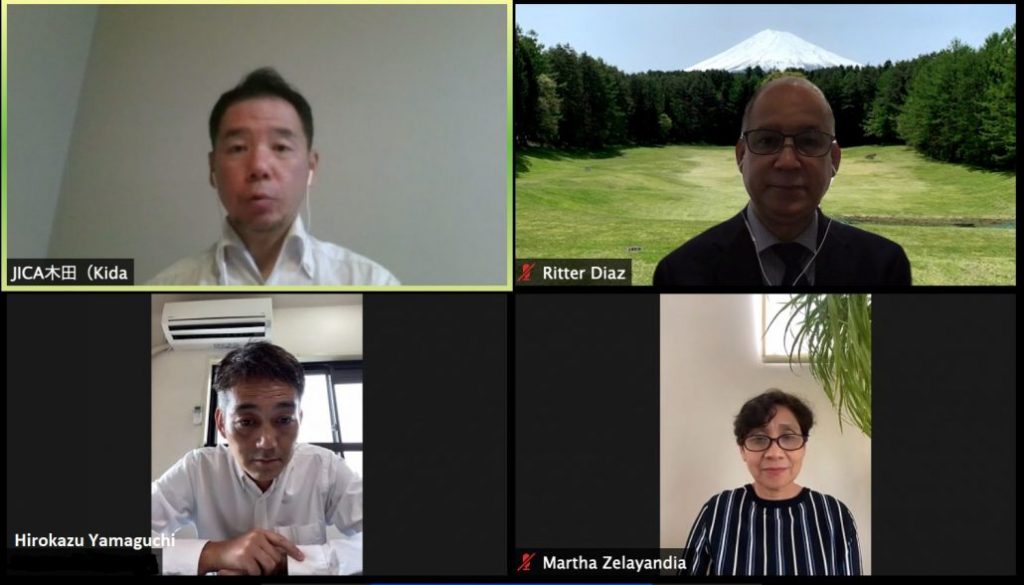 The Japan Association for Promotion of Latin America and the Caribbean (JAPOLAC) held a meeting with Mr. Katsuto Kida, Senior Deputy Director of the Planning and Migration Affairs Division, Latin American and Caribbean Department of the Japan International Cooperation Agency (JICA) to introduce the E-Learning program for Spanish speakers residing in Japan.
As there are many Spanish speaking residents from Latin America who cannot communicate properly in Japanese, the E-Learning Japanese program offers a practical tool to rapidly learn Japanese language, widening employment opportunities, and thus contributing to a better quality of life for non-Japanese Spanish speaking residents.
JAPOLAC was represented by Dr. Ritter Díaz, Representative Director, Mrs. Martha Zelayandia, Honorary Member in charge of the education program of the Association and Mr. Hirokazu Yamaguchi, Managing Director.
Both parties agreed to have further consultations on the E-Learning program to explore ways for potential cooperation to implement the said program.