May 19, 2022
JAPOLAC Held the Latin America and Caribbean Tapas Party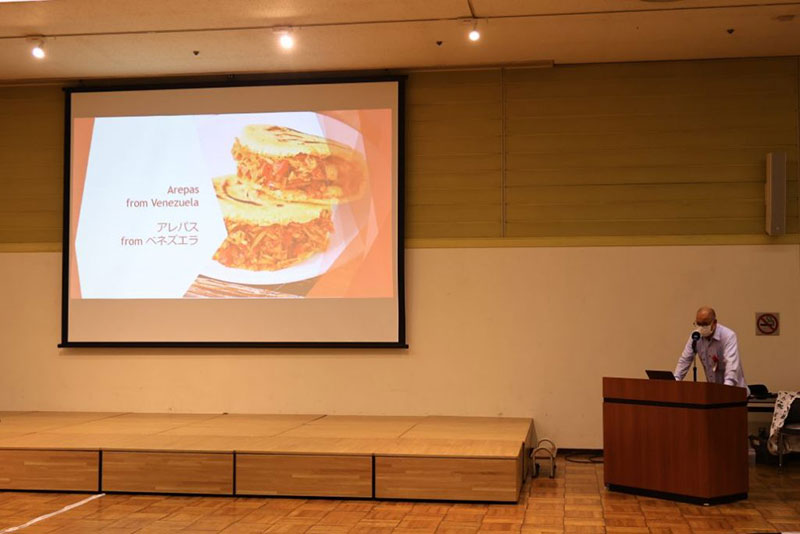 After two years of social restrictions due to the pandemic, JAPOLAC held the first cultural event called Latin America and Caribbean Tapas Party on May 14, 2022 at Sumida Industry Hall.
The event showcased a variety of tapas (light dishes) from various Latin American and Caribbean countries such as choripan (Argentina), coixinha (Brazil), cold Cuban salad (Cuba), Tamalitos de Yuca con Pescado (Colombia), Pastelitos Redondos de Pollo (Dominican Republic), quesadillas (Mexico), carimañola (Panama), causa (Peru), arepas (Venezuela/Colombia) and empanadas, shared by the countries of the region with their respective national tastes.
The word tapas in Spanish refers to light dishes served and eaten in the company of friends, family, coworkers or any other acquaintances. Through this type of social gathering, JAPOLAC is seeking to create an intimate and relaxed atmosphere to deepen and strengthen human bonds between Japanese and Latin America and Caribbean people.
The event also included professional dance teachers, who carried out dance demonstration of tango, salsa, merengue and bachata and taught basic steps of each musical gender to participants.
During the event, JAPOLAC also hosted a drawings exhibition of the Florian Paucke Foundation depicting the life of native people as well as the fauna and flora of Argentina in the XVIII (18th) century, and which is considered a historical and cultural treasure of colonial times.
Over 150 people attended the tapas party, including Mr. Toru Yamamoto, mayor of Sumida district, Mrs. Noemi Inoue, assemblywoman of Sumida district, ambassadors of Costa Rica, Cuba, Peru, and representatives of the embassies of Argentina, Honduras, Dominican Republic, and Ecuador.
Part of the funds raised at the event were donated to the Florian Paucke Foundation, a charity organization dedicated to support musical training for children experiencing economic difficulties in Argentina.
Greetings from JAPOLAC, local authorities and toast with diplomatic representatives.







Sponsor/Vendor









Participant




Tapas/Light Dishes







Dance





Exhibition