April 8, 2022
Invitation to a Charity and Cultural Event – The Latin America and Caribbean Tapas Party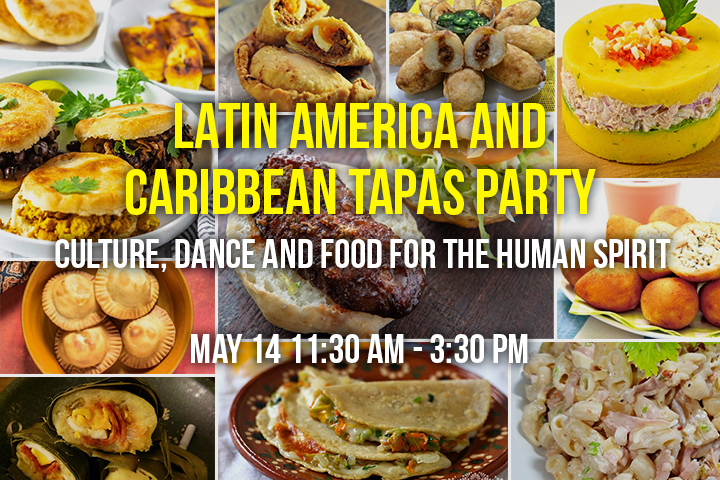 (LAC TAPAS PARTY)
After two years of social restrictions due to the pandemic, let's restart our social life with a Latin America and Caribbean Tapas Party to enjoy selected light dishes (tapas) from different countries of Latin America and the Caribbean.
We invite Japanese and non-Japanese people to experience a relaxed and interactive Latin atmosphere with light food, drinks, music and dance.Professional dance teachers will carry out dance demonstration of tango, salsa, merengue and bachata as well as teach basic steps of each musical gender. Dancing is food for the human spirit and healthy physical exercise for the body.
It will be a good occasion to meet and share with Embassy representatives from the countries of Latin America and the Caribbean and learn a bit of colonial history from South America through the Florian Paucke's drawings exhibition, depicting the life of native people as well as the fauna and flora of the region in the XVIII (18th) century.
There will be also product exhibition tables where participants can view and purchase various Latin American and Caribbean products.
Excess revenue from this event will be donated to the Florian Paucke Foundation, a charity organization dedicated to support musical training for children experiencing economic difficulties.
Date and Time: Saturday, May 14, 2022, from 11:30 a.m. to 3:30 p.m.
Door opens at 11:00 a.m.
Venue: Sumida Industry Hall, 8F, Marui Joint Development Building.
Address: 3-9-10 Kotoubashi, Sumida-Ku, Tokyo.
It is a one-mimute walk across from Kinshicho Station, South Exit.
Number of Participants: 250.
Entrance Fee: For adults, 3,500 yen advance payment by bank transfer; 4,000 yen at the door. For Junior and High School students, 1,500 yen advance payment; 2,000 yen at the door. For Elementary School children is free of charge, except consumption of tapas and drinks.
The entrance fee includes tickets to consume tapas and drinks, musical entertainment, basic dance lessons for beginners in the musical gender of tango, salsa, merengue and bachata, as well as viewing of the drawings exhibition.
Organizer: Japan Association for Promotion of Latin America and the Caribbean (JAPOLAC).
Supported by: Embassies of Cuba, Costa Rica, Dominican Republic, Ecuador, Guatemala, Haiti, Jamaica, Paraguay, Peru.
Corporate Support: Kiyomura Corporation (Sushi Zanmai), Belucci International, Kyodai and Japan Partnership Holdings).
Payment method: Payment at the door by CASH, PAYPAY, PASMO and SUICA.
Advanced payment by bank transfer to:
Bank Name: Sumitomo Mitsui Banking Corporation (SMBC), Tsukiji Branch 625
Account Name: Japan Association for Promotion of Latin America and the Caribbean
Account Number: 7614048
Deadline for advance payment: Monday, May 9, 2022.
Please, include bank fee, when making the advance payment.
For advanced payments, please present bank voucher at the reception desk on the day of the event.
A refund will be carried out in case of cancellation of the event.
The refund will not apply to no-shows.
Bank fees will be deducted from the refund.
Party Format: Standing style with tables placed at designated areas.
Dress Code: Smart Casual.
Cancellation of event: The event will be cancelled in case of restrictive measures imposed due to new COVID-19 outbreak or any other force majeure situation.